Hi there!
You'd imagine that kids can't be heroes in a world filled with adults, individuals who have gained countless more years of experience, countless opportunities to face obstacles and overcome them. But you're wrong! Kids can be heroes too. Kids can impress themselves through heroic feats that they never knew they were capable of.
---
This feature, published at an undetermined frequency (weekly, bi-weekly, monthly, who knows), will present a couple of mini reviews on anything that isn't in a physical format that I own (ebooks, comic books, TV series or movies).

Click on the covers to be redirected to their Goodreads/IMDB page!
Anything presented in this feature doesn't necessarily mean that it won't get a full-review treatment in the future. That will entirely depend on how much I loved it, how interested you are in hearing more on it, and how much I have to still say about it! 🤣
---
The Last of Us: American Dreams by American Dreams.
Nineteen years ago, a parasitic fungal outbreak killed the majority of the world's population. In one of the few remaining quarantine zones, thirteen-year-old Ellie begins her new life as a ward of a military boarding school, where a friendship with fellow student Riley leads to her first trip into the outside world. Beyond the walls of the regimented civil order they know, Ellie and Riley are soon confronted with the violent way of life of the insurgent group the Fireflies–and with the monstrous victims of infection!
Inconsequential in itself, this prequel to the DLC of the original video game barely shocks the world with anything but Ellie learning a couple of survival skills. There's maybe one little item that gets an origin story but we won't know more about it all in the end.
The artwork was a bit rough and instinctively feels like it was a webtoon, something genuinely made for fan-fiction, but for how short this story was, I guess you'll also be quick to be dismissive about it all.
New Kid by Jerry Craft.
Seventh grader Jordan Banks loves nothing more than drawing cartoons about his life. But instead of sending him to the art school of his dreams, his parents enroll him in a prestigious private school known for its academics, where Jordan is one of the few kids of color in his entire grade.
As he makes the daily trip from his Washington Heights apartment to the upscale Riverdale Academy Day School, Jordan soon finds himself torn between two worlds—and not really fitting into either one. Can Jordan learn to navigate his new school culture while keeping his neighborhood friends and staying true to himself?
I think this is a fantastic comic book for a much younger crowd, really delving deep into various in-school issues, whether it's racism or bullying. I still found that the themes were tackled a bit too consecutively, without allowing us to really explore each of them in detail.
The artwork was a bit too cartoonish, except when the protagonist showcases his own pencil artwork, which was a huge upgrade to the rest of the graphic novel too.
The Backstagers (Vol. 1): Rebels Without Applause by James Tynion IV.
When Jory transfers to an all-boys private high school, he's taken in by the only ones who don't treat him like a new kid, the lowly stage crew known as the Backstagers. Not only does he gain great, lifetime friends, Jory is also introduced to an entire magical world that lives beyond the curtain. With the unpredictable twists and turns of the underground world, the Backstagers venture into the unknown, determined to put together the best play their high school has ever seen.
An intriguing concept featuring a quirky and socially awkward cast reveling in their backstage roles while introducing readers to a mysterious fantasy world that no one dares explore more than necessary.
Bear by Ben Queen.
Bear is a service dog who would do anything for his owner and best friend Patrick who is blind. But when Bear suddenly loses his vision, he worries he's lost his purpose in life—protecting Patrick! Following the misguided advice from some self-serving raccoons, Bear embarks on a transformative journey to regain his eyesight. Out of both necessity and survival, he learns to tap into his other senses and begins to see the world from a new perspective that is at times more rich and colorful than the world he's always known. 
An adorable and beautifully-drawn story that follows an empathetic service dog's journey into a terrifying world with plenty of beautiful life lessons on his path.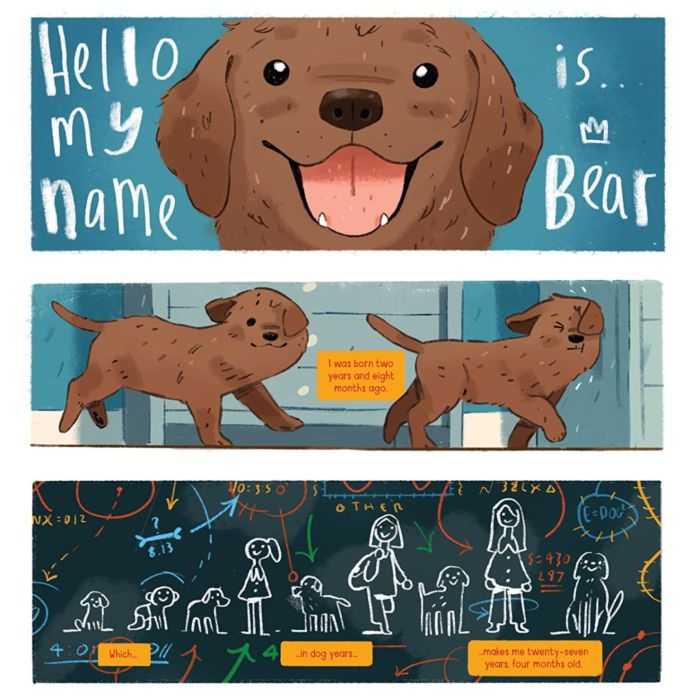 Middlewest (Book One) by Skottie Young.
A conceptually-original fantasy story with excellent artwork that covers some familiar ground but does with brio! There are fun side characters that make this intriguing too as the story cautiously expands and builds on its emotional concepts.
---
Have you read any of these?
Share your thoughts on anything and everything with me! 😁
TILL NEXT TIME,