Title

: A Plague Tale: Innocence.



Release date

: 2019.


Console (player on)

: PlayStation 5.


Console (also available on)

: PlayStation 4, Xbox One, Xbox Series X/S, PC & Switch.
Mode(s)

: Single-Player.


Genre(s)

: Adventure, Drama, History.


Developer

: Asobo Studio.


Publisher

: Focus Home Interactive.
Director(s)

: David Dedeine & Kevin Choteau.


Producer(s)

: Brice Davin & Jamal Rguigui.


Designer(s)

: Kevin Choteau.


Programmer(s)

: Alain Guyet.


Artist(s)

: Olivier Ponsonnet.


Writer(s)

: Sébastien Renard.


Composer(s)

: Olivier Deriviere.


Voice Actor(s):

Charlotte McBurney, Logan Hannan, Edan Hayhurst, Tabitha Rubens, David Knight, and many more!
My Overall Rating

:
---
To be challenged young to tackle endeavours in the absence of parents is an overwhelming adventure that forges individuals in unimaginable ways. With only what they've learned young as a guideline, their natural instincts, and their emotions, their innocence remains both their strength and their weakness as they confront the corrupt and malicious world around them. Developed by the French video game developer Asobo Studio, their latest game, which will soon get a sequel called A Plague Tale: Requiem, invites gamers into a treacherous world where young children must fight for survival, both from the evil Inquisition and a supernatural army of infectious rats.
What is A Plague Tale: Innocence (2019) about? Set in 1348, the 15-year-old French girl Amicia de Rune lives in Aquitaine during the great Hundred Years' War between England and France. On one faithful night, the French Inquisition led by Lord Nicholas ravage the de Rune estate in search of her 5-year-old brother Hugo. Forced to flee their assault, the two younglings flee to nearby villages, searching for someone that could help them in their terrible predicament. Unfortunately, their fate is also tied to the black plague, known as the Bite, terrifyingly embodied by hordes of rats that surge from the ground and infect all that they encounter.
Unsurprisingly, the story gravitates around the innocence of these children confronted to the madness around them, from tragedies that they witness to people they love to the terror due to both the Inquisition and the black plague. As they are propelled in various directions to help them in their journey, they also encounter peculiar characters, often as young as them, who live a completely different life from what the de Rune siblings have known so far, brimming with protection, love, and riches. Although there are some cliché elements that compose the story, they are suffizingly-well-executed in an original fashion to overlook. The supernatural elements in the rats also make for an engrossing component to the story and allow players to enjoy a fun twist that gives this franchise its own identity.
Heavily drawing upon game mechanisms from The Last of Us, this story-driven adventure does a phenomenal job in seamlessly blending stealth gameplay, original puzzles, and aggressive action sequences. From strategically progressing through the game using various fire-based instruments to hold off the army of rats to taking down enemies with your deadly sling that instantly knocks out or kills enemies when targeting their heads, there is an impressive balance in gameplay that allows you to enjoy different approaches while remaining connected to the story. However, stealth remains the core focus of the gameplay as your try to avoid enemies and reach your objectives. The simple upgrade system is also efficiently incorporated into the story to give your character opportunities to loot material that can help Amicia improve her equipment and alchemy.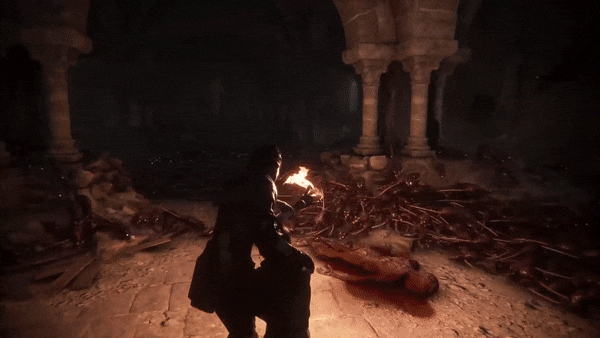 The audio and artistic direction of this game is also impressive. There is incredible attention to detail that is instantly recognizable in every inch of the world. The cutscenes make for short and sweet breaks that allows you to soak in the narrative and immerse yourself in a world where hope is slim and the fate of these children lies in the palm of their own hands. Although there is a linear structure in terms of progression, this game presents the developers' ability to deliver quality gameplay and writing that only promises greater improvements in future installments and projects. While the innocence of these characters is portrayed through such young individuals, it can only be imagined what they will have to endure and overcome as they grow older and reflect upon their behaviours and decisions.
A Plague Tale: Innocence (2018) is an immersive, story-driven, and stealth-focused adventure following a myriad of children off to confront monstruous humans and supernatural hordes of rats during the Hundred Years' War.
---
A Plague Tale: Innocence (2019) is out on the PlayStation 4 since May 14th 2019.
---
Have you played this game?
Will you? What do you think about it?
Share your thoughts with me!
---