Director

: Jim Wynorski.


Writer

: Neil Cuthbert & Grant Morris.
Release Date: 1982.
Runtime: 88 min.
Genre(s): Horror, Sci-Fi.
Cast: Louis Jourdan, Heather Locklear, Sarah Douglas, Dick Durock, Joey Sagal, Ace Mask, Monique Gabrielle, and many more!
Budget
:

$4,000,000 (estimated).
My Overall Rating:
---
Previously in the Swamp Thing franchise:
Swamp Thing (1982).
---
There's a certain charm to old man-in-a-suit monster mayhem movies. Deep down, they all wish they could embody the very definition of horror and deliver memorable creatures that will haunt viewers for years to come. Nowadays, their charm lies within their conception rather than their concept, reminding us of a time that is nothing like modern days. Unfortunately, even the worse of these movies get sequels that no one asked for and viewers can only pray that things will be better this time around but this definitely isn't the case. Director Jim Wyrnorski picks up the mantle after director Wes Craven and attempts to give Swamp Thing a second chance only to give us a movie so bad that some might actually find this quite funny.
What is The Return of Swamp Thing (1989) about? Several years after her mother's mysterious death, Abigail Arcane, romantically troubled yet insanely plant-loving, travels to the Florida swamps to confront her stepfather Dr. Anton Arcane. Originally defeated by Swamp Thing, his resurrection allows him to embark on a new scientific project that could allow him to reverse the effects of aging and seek immortality. While his plans meet countless obstacles as he creatures an army of monsters known as Un-Men, he later sees in his stepdaughter the answer to all of his misery but Swamp Thing won't let that happen. It's time for their eternal battle to decide their faith once more, with only one of them coming out alive to live another day.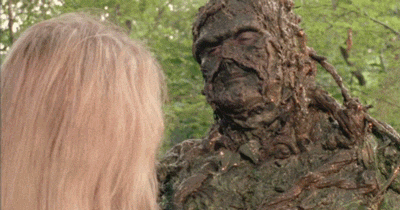 There is something paradoxically regrettable to see Swamp Thing taken down such an ugly and comical route when there is such a sophisticated and thought-provoking concept behind his character. Void of any of the existential ruminations that you could expect from a superhero who has become one with nature, this regrettable sequel looks to repeat the damsel-in-distress plot while recycling a similar direction poorly taken by Wes Craven in the original movie. This time around, director Jim Wynorski, as his filmography clearly indicates, draws upon his softcore horror expertise to deliver another forgettable and linear story where bad guys get destroyed by Swamp Thing's brute force and leave viewers bewildered by the mediocre plot before them.
On top of the over-the-top silliness brought into play in this sequel, the story's sexual undertones are disgraceful to say the very least. While they might be hidden in plain sight, it didn't help that a case of insta-love was the driving force of this whole narrative where little effort at all was put into Swamp Thing's unidimensional character (not like any other character turned out more than unidimensional). With the cringe-worthy romance, the boring evil masterplan, and the generic action sequences, it's safe to say that you'll probably have more fun rolling in mud than watching this swampy catastrophe. At least there are two never-before-seen pipsqueaks who get their own little oddball subplot to further the comical atmosphere of this disaster of a movie. That gives this movie a chance to laugh at itself and try again numerous times.
The upside is that Swamp Thing gets a makeup upgrade compared to its previous iteration. While you can still tell that it's just a man in a rubber suit, it has much more details that inch him closer to his comic book counterpart. His perfect human teeth, smile, laugh, and voice also, unfortunately, make you realize that maybe there's nothing monstrous about him in the end, until you see what the Un-Men look like. While I want to say positive things about the score by Chuck Cirino, I have to admit that it doesn't change anything but temporarily hypnotize you, in conjunction with the cinematography, into believing that you might just be watching a low-budget Saturday morning live-action movie where you could get away with a decent viewing if you turn your brain off and allow yourself to be impressed by how bad it is in the end.
The Return of Swamp Thing (1989) is a pointless, lifeless, and shameless sequel helming an unamusing comedic tone, senseless action, and superfluous sexual innuendos to further tarnish the superhero's reputation.
---
The Return of Swamp Thing (1989) is available for purchase and on select streaming services.
---
Have you read any Swamp Thing comics?
Have you seen The Return of Swamp Thing (1989)? Will you? What did you think about it?
Share your thoughts with me!
---