Director

: Wes Craven.


Writer

: Wes Craven.
Release Date: 1982.
Runtime: 91 min.
Genre(s): Horror, Sci-Fi.
Cast: Louis Jourdan, Adrienne Barbeau, Ray Wise, David Hess, Nicholas Worth, and many more!
Budget
:

$3,000,000 (estimated).
My Overall Rating:
---
Even in the muddy and murky waters, beauty can be found by those who look close enough. While it is easy to be distracted by the ugliness present in the world, there are individuals who would go out of their way to do everything within their power to do good and make it a better place for all to live in. For one scientist, it is by looking into beauty hidden in plain sight that he finds a way to embrace his new life, a life within the swamps. Directed by legendary director Wes Craven (known for A Nightmare on Elm Street and Scream), Vertigo/DC Comics's superhero creature embraces home video and offers viewers the chance to watch the monster crawl out of the swamps into a realm of heroism.
What is Swamp Thing (1982) about? The story follows Dr. Alec Holland (Ray Wise) in his top-secret bioengineering project in the middle of a swamp as the government worker Alice Cable (Adrienne Barbeau) flies in to replace a mysteriously dead agent. As he uncovers a fascinating formula that could change the world in unimaginable ways, the laboratory is ambushed and sabotaged by men under the coordination of an evil paramilitary leader known as Anton Arcane (Louis Jourdan). What follows is Dr. Alec Holland's tragic transformation into the Swamp Thing and a cat-and-mouse game for absolute power among geniuses.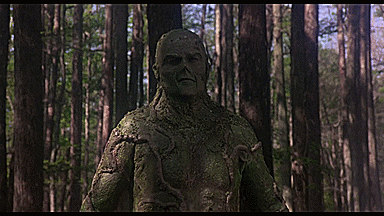 What can I say? It turned out exactly as I suspected it would. Loosely capturing the origin story of the Swamp Thing, director Wes Craven gives us an 80s style Schwarzenegger action movie with a tiny touch of horror in the form of an ugly (I guess you could argue that this is quite appropriate for the genre) and veiny rubber suit. With a very predictable storyline, he quickly prepares all the conditions necessary for the monster to appear and then presents us with a slow story arc highlighting its strength, its motivation, and its rough gentleness. As much as you'd like to pity the thing, his unnatural growth into this wicked atrocity is done with little tact, making it all the more complicated to even care about his instant love with the key damsel in distress in the movie. Upon reaching the final act, an inevitable boss battle ensues and nothing spectacular comes out of it but a lot of splashing around and trivial growling.
I guess you could say that the campy tone of the movie has a certain charm today but even with pink-tinted glasses, it's hard to find anything rewarding out of this movie. I guess some could say that Adrienne Barbeau's character, running around, tripping, flailing her arms, not missing an opportunity to promote her frontal assets, letting any man kiss her on the spot, getting wet as often as possible, and showing no personality could draw in a niche of viewers who have nothing better to do. It might also be fun to see, on a low-budget, how director Wes Craven gives us one of our first sort-of decent looks at a live-action Swamp Thing but, otherwise, you'll really have to look hard to find anything extraordinary here. Then again, this movie does spawn a sequel, so it must have done something right somewhere down the line.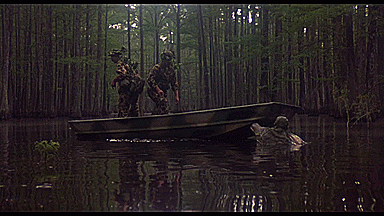 There's not much that can be criticized about the score realized by Harry Manfredini but I must take a moment to mention the hilariously bad transitions straight out of an 80s PowerPoint presentation. I'm not even talking about simple fade-to-black. We get some wild animations that just take you of the impossible immersion only to be reminded of the movie's inevitably wacky style. While the movie has some decent moments, it simply steers back into shallow waters and throws dirt right into anything that could've saved it from embarrassment. It's simply too hard to ignore how lazily written, produced, and directed this was but at least it gave us an opportunity to explore new ways to be goofy in cinema.
Swamp Thing (1982) is a campy and silly origin story ushered deep into the mud by a dull damsel in distress and a foolish evil pseudo-genius villain.
---
Swamp Thing (1982) is available for purchase and on select streaming services. It also available on Youtube for free.
---
Have you read any Swamp Thing comics?
Have you seen Swamp Thing (1982)? Will you? What did you think about it?
Share your thoughts with me!
---