Title

: Death Stranding Director's Cut.



Release Date

: 2021.

Console (played on):

PlayStation 5.


Console (Also available on):

PC (Not the director's cut).


Mode(s)

: Single-Player.
Genre(s): Action, Adventure, Drama.


Developer:

Kojima Productions.


Publisher:

Sony Interactive Entertainment.



Director

(s): Hideo Kojima.
Producer(s): Hideo Kojima, Kenichiro Imaizumi, James Vance & Ken Mendoza.
Designer(s): Hideo Kojima.


Composer(s):

Ludvig Forssell.
Voice Actor(s): Norman Reedus, Mads Mikkelsen, Léa Seydoux, Troy Baker, Margaret Qualley, Tommie Earl Jenkins, Jessi Corti, and many more!

My Overall Rating:
---
Best known for establishing the stealth genre and giving the world the legendary Metal Gear franchise, video game creator Hideo Kojima remains a legend within the industry for his passion for his work. Striving to blur the fine line between video games and cinema, his creativity goes beyond the established standards to redefine our understanding of visual and narrative storytelling. Despite having grown under the wings of the video game company Konami, it is upon leaving them and founding Kojima Productions that he became monarch of his own creative freedom and delivered his first Strand game in 2019 known as Death Stranding only for a director's cut of his work to be released exclusively on the PlayStation 5 on September 24th, 2021.
What is Death Stranding Director's Cut (2021) about? Set in the United States devasted by a cataclysmic event that destroyed the landscape while setting loose terrifying creatures known as BT, Sam Porter Bridges is a freelance courier who delivers packages, from supplies to individuals, to isolated colonies across the country. Upon being tasked by the dying president of the United Cities of America (UCA) whose dying wishes is to rebuild the country, he sets off to establish a virtual wireless communications network through key relay sites across the country, giving the remaining people an opportunity to reconnect and build a better future. Throughout his journey, aided by various compatriots, he learns about the tragedy of the Death Stranding and the dangerous fate of humanity if he doesn't uncover the truth.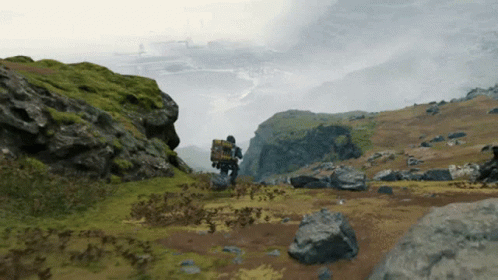 In the same vein as the stealth genre-defining Metal Gear series, director Hideo Kojima delivers one of the most ambitious, unparalleled, and immersive gaming experiences that follow Sam Porter Bridges through a gorgeous, daunting, and apocalyptic world. While stealth can be utilized on occasions to evade enemies, both human and supernatural, the true adventure comes from its intricate hiking simulation that invites gamers to strategically utilize gear (anchors, ladders, and whatnot) to traverse rough natural terrain, from debris to mountains. Thankfully, the director's cut also multiplies Sam's access to vehicles, cutting your time on foot enormously. However, one of the greatest pleasures in this game lies not only in completing your delivery mission following a perilous expedition, allowing you to connect the fractured people and separated colonies within the country, one step at a time, but also in stopping at visually-astonishing sites in the country to gaze at the details put into this frightening yet exquisite universe.
Unfortunately, even with the soul-searching and patience-requiring journey, it is almost a mandatory prerequisite to embark on this adventure with a profound desire to discover a new world, ready to allow yourself to immerse yourself into a creator's peculiar yet otherworldly vision, with an inquisitive mind regarding the underlying themes of connection and hope delivered through this story. In fact, Sam Porter Bridge's journey represent that of an individual who initially lost faith and is given an opportunity to rebuild America by reminding everyone he encounters the bond that ties them to this world and to one another. Although captivating at heart, it is worth mentioning that director Hideo Kojima has a very strange and almost disconnected way to write the dialogue but this awkward style gives his games a unique style that you nonchalantly grow to appreciate.
To further the immersion, the music in this game is incredible. Beautifully timed, some scores are automatically triggered when entering certain beautiful sceneries, elevating the visual experience even more. On the contrary, the game also features some of the more quirky Japanese features that take you out of the immersion but gives you a good giggle, whether it's regarding the fourth wall being broken by an odd character or the cinematic moments that reminds you of the eastern culture and their singular understanding and approach to human nature and sexuality. Then again, immersion cannot be questioned in its globability throughout the game as it remains one of the main objectives and this can also be noticed by the incredibly long and numerous cutscenes, especially towards the end, that allow the Hollywoodian cast to be fully utilized.
Death Stranding Director's Cut (2021) is a bizarre, immersive, and ambitious exploration of humanity's downfall and rise through connection, hope, and parenthood.
---
Death Stranding (2021) is out on the PlayStation 5 since September 24th 2021.
---
Have you played this game?
Will you? What do you think about it?
Share your thoughts with me!
---