Title

: Supergirl.
Rated: PG.
Director

: Jeannot Szwarc.


Screenplay by

: David Odell.
Release Date: 1984.
Runtime: 124 min.
Genre(s): Action, Adventure, Sci-Fi.
Cast: Helen Slater, Faye Dunaway, Peter O'Toole, Mia Farrow, Brenda Vaccaro, and many more!
Budget
:

$35,000,000 (estimated).


Opening Weekend (US & Canada)

:

$5,738,249.
My Overall Rating:
---
---
Who wouldn't be tempted to expand on an iconic superhero's lore by creating a spin-off for another superhero? Even more so when the success of the first two movies could justify the wild idea of a whole universe where multiple superheroes could co-exist together? Although the idea of a universe, and later, that of a multiverse, would only truly come to fruition in the next millennium, Alexander and Ilya Salkind sought to the purchase of the rights to Supergirl who would thus go on to receive her own spin-off under the direction of Jeannot Szwarc to Christopher Reeve's Superman saga. Although set after the disastrous Superman III (1983) movie, only Marc McClure would reprise his role as Jimmy Olsen. Unfortunately, one could not expect this latest super-adventure to be up to par with Superman (1978) or Superman II (1980) but a demonstration of a catastrophic degradation first observed with Superman III (1983) and epitomized by Superman IV (1987).
What is Supergirl (1984) about? On Argo City, in a pocket of trans-dimensional space, lives a small colony of Kryptonians who survived the infamous disaster that their home planet had encountered. There lives Kara Zor-El, cousin of Superman, who discovers the purpose of the Omegahedron, which assures the survival of their city. A reckless accident, however, sends the power source straight to Earth, bringing Kara to carelessly follow after it on the only ship available. On this journey, she transforms into Supergirl and lands near an all-girl school where she uses her new secret identity as Linda Lee to befriend humans, including Lucy Lane (younger sister to Lois Lane), and tries to track down the orb that is now in the hands of a negligent witch.
You'd think that they put in more effort into the screenplay to avoid creating a blasphemous spin-off that could never take off without help (help otherwise seen in the very visible suspension cords that they didn't bother hiding with Supergirl despite twice the budget allocated to this movie than Superman III). If the prelude set in Argo City wasn't a warning for what was to come, rest assured that there is a myriad of instances throughout this movie that would urge you to dig your nails deep into your thighs trying to comprehend the direction of this movie. While there's a clear crisis pointed out from the beginning with a whole community on the brink of extinction due to Kara and a man named Zaltar's foolishness, the story dramatically shifts its tone to neglect the problem at hand to explore inconsequential subplots, whether it would be her séjour in a high school context or her ridiculous love story with a man who turns out forcefully (through magic) in love with her.
On one hand, looking at this movie as an attempt to explore a feminist agenda, it is clear that it fails beyond measure as the core narrative falls backward, into a pile of nonsense, where women senselessly use their powers to gain control over one man. On the other hand, looking at this movie as an origin story like any other, it messily puts together a series of uninspiring events that haphazardly forces Supergirl to try and save the day. Nevertheless, her naive and thoughtless behaviour leaves numerous plot holes unresolved within this story where, oftentimes, she puts her identity at risk and could have easily flipped the world on its head and ruined everything in place for Superman (which would have probably forced him into flying around the world to reverse time for the third time in another movie that never saw daylight).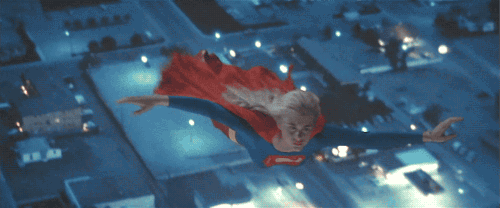 Given that this movie isn't a comedy, it does effortlessly become a perfect guide of how to make a box office bomb. As much as one would love to say that Jerry Goldsmith's score might have helped constrain criticism towards this movie, the task is insurmountable. It can be argued that Helen Slater (who later ends up playing Supergirl's mother in the CW Arrowverse show) was a visually excellent choice for the titular Supergirl role, there is no way that anyone could defend the terrible acting performances by most of the main actors in this movie, with Faye Dunaway and Peter O'Toole delivering some of the worse performances out there. If anything, we at least know that the movie's budget was mostly retained to get these actors rather than to work on the editing or CGI that this movie required. No wonder this spin-off is usually best left alone, isolated from everyone's memory, banished in the dark corners of the multiverse.
Supergirl (1984) is a foolish, disgracious, and pointless origin story lacking raison d'etre, narrative reasoning, and heart.
---
Supergirl (1984) is available for purchase and on select streaming services.
---
Have you read any Supergirl comics?
Have you seen Supergirl (1984)? Will you? What did you think about it?
Share your thoughts with me!
---