Hi there!
Who doesn't love writer Brian K. Vaughan and artist Fiona Staple's critically-acclaimed comic book series Saga? If anything, their hiatus has probably eaten away at whatever remaining patience anyone has had today. Thankfully, he has been doing comic books for a while now and another of his beloved, completed, however, comic book series is Paper Girls.
With news of a live-action TV series set to premiere on Amazon Prime Video, with Sofia Rosinsky (Fast Layne), Camryn Jones (Pacific Rim: The Black), Riley Lai Nelet (Altered Carbon) and Fina Strazza (Law & Order: Special Victims Unit) rumoured to star as the lead squad, everyone should look into catching up on this engrossing young adult science-fiction comic book series that could turn out to be the next Stranger Things if done right!
---
This feature published at an undetermined frequency (weekly, bi-weekly, monthly, who knows) will present a couple of mini reviews on anything that isn't in a physical format that I own (ebooks, comic books, TV series or movies).

Click on the covers to be redirected to their Goodreads page!
Anything presented in this feature doesn't necessarily mean that it won't get a full-review treatment in the future. That will entirely depend on how much I loved it, how interested you are in hearing more on it, and how much I have to still say about it! 🤣
---
Paper Girls (Vol. 1) by Brian K. Vaughan.
SAGA writer BRIAN K. VAUGHAN launches a brand-new ONGOING SERIES with superstar Wonder Woman artist CLIFF CHIANG! In the early hours after Halloween of 1988, four 12-year-old newspaper delivery girls uncover the most important story of all time.
A charmingly mysterious story arc that introduces readers to the young and snappy cast in what will be a life-changing event. Once the twist hits, things get more chaotic, more unpredictable, and more neon-y, that's what give this series its hook. You'll just want to know where things are headed next.
Paper Girls (Vol. 2) by Brian K. Vaughan.
After surviving the strangest night of their lives in the Cleveland suburb of Stony Stream, intrepid young newspaper deliverers Erin, Mac, and Tiffany find themselves launched from 1988 to a distant and terrifying future… the year 2016.
What would you do if you were suddenly confronted by your 12-year-old self? 40-year-old newspaper reporter Erin Tieng is about to find out in this action-packed story about identity, mortality, and growing older in the 21st century.
Readers of Saga will notice similarities in style but, rest assured, this series greatly doses its shock factor and rather plays along with its overarching mystery more than anything. This time around, facing the unusual for the first time, the gang finds itself asking more questions than they can answer but when future and past collide, chaos naturally follows.
Paper Girls (Vol. 3) by Brian K. Vaughan.
The multiple Eisner and Harvey Award-winning series from BRIAN K. VAUGHAN and CLIFF CHIANG continues, as newspaper deliverers Erin, Mac and Tiffany finally reunite with their long-lost friend KJ in an unexpected new era, where the girls must uncover the secret origins of time travel… or risk never returning home to 1988.
The story goes in even more unpredictable territory and pushes the world-building to new levels (or eras). This time around, the characters find themselves asking themselves questions on who they are and what's to happen, on how much free will they truly have, and how they'll get out of this mess. Unfortunately for them, this won't be the only trauma they'll be facing anytime soon.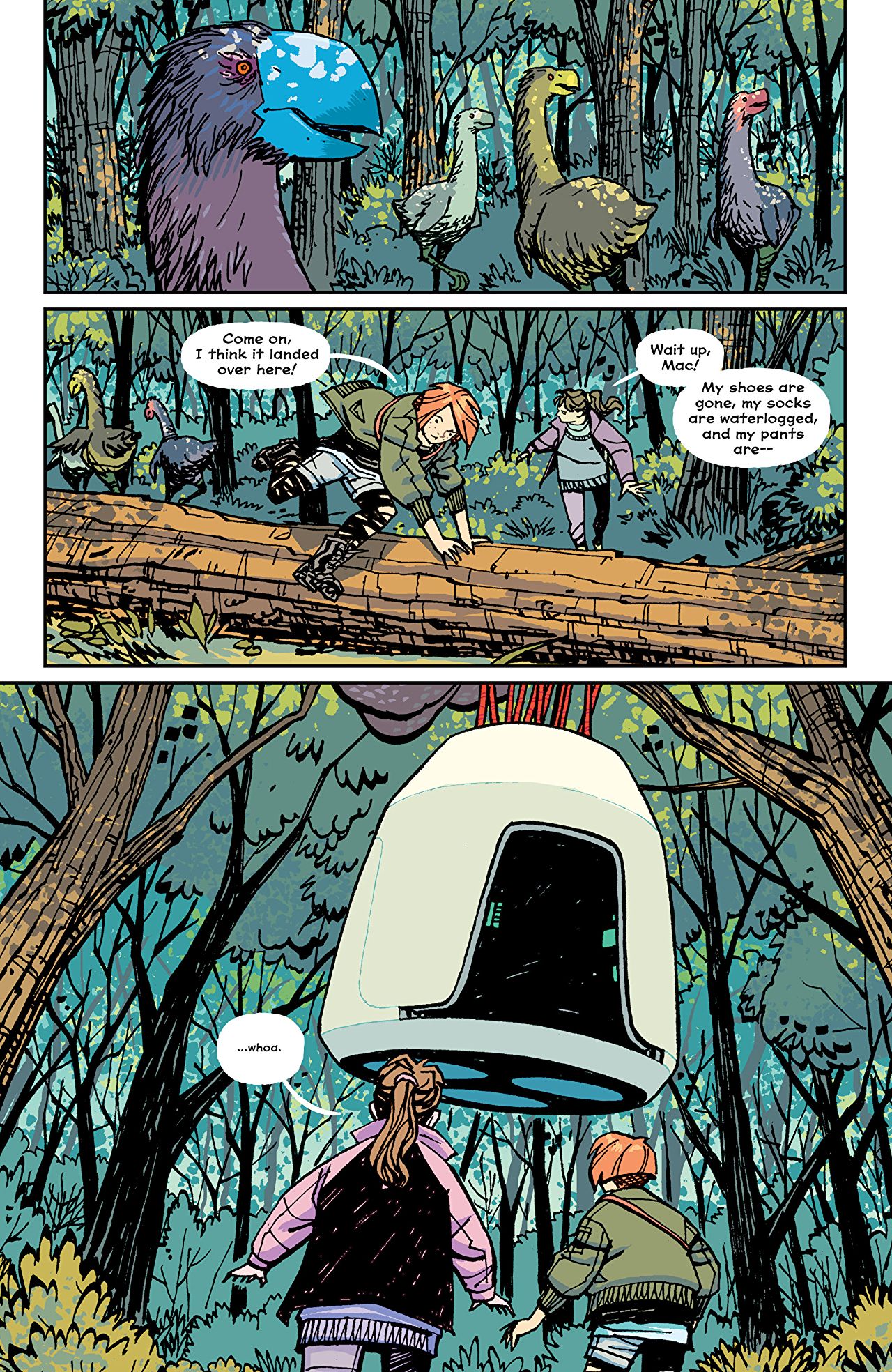 Paper Girls (Vol. 4) by Brian K. Vaughan.
The mind-bending, time-warping adventure from BRIAN K. VAUGHAN and CLIFF CHIANG continues, as intrepid newspaper deliverer Tiffany is launched from the prehistoric past into the year 2000! In this harrowing version of our past, Y2K was even more of a cataclysm than experts feared, and the only person who can save the future is a 12-year-old girl from 1988.
The character growth in this volume is almost tangible. Facing new threats, getting more answers, and assuming the consequences of their actions, they now know much more on what's going on and will do anything to find a way back. But at what cost? If you've been wondering if they artwork sees any changes, wonder not. Its consistent from start to finish and handled with clarity despite the intentional confusion born from the narrative.
Paper Girls (Vol. 5) by Brian K. Vaughan.
Can anyone escape fate? That's what Mac and her fellow newspaper delivery girls must discover as they escape the year 2000 and travel to the distant future. Plus, the truth behind the mysterious "old-timers" is finally revealed.
If you stuck around this long, you'll grow accustomed to wild direction of this story as these girls find themselves challenging Space and Time in unimaginable ways. As you try to piece together this mystery just as vainly as these girls, you'll find yourself too curious to let confusion rule over your psyche and let yourself embrace the creative universe in this series.
Paper Girls (Vol. 6) by Brian K. Vaughan.
THE END IS HERE!
After surviving adventures in their past, present and future, the Paper Girls of 1988 embark on one last journey, a five-part epic that includes the emotional double-sized series finale. Featuring a new wraparound cover from Eisner Award-winning co-creator CLIFF CHIANG, which can be combined with the covers of all five previous volumes to form one complete mega-image!
If you had no idea where this series was headed before, you're sure to find this finale in synchronization with your confusion. There is no all-revealing answers. There is no clean cut. It's bittersweet, chaotic, and appropriate. It goes back to its roots and it approaches it both wildly and delicately. And something about that approach just seems right for this series. And maybe it'll do the same for your too. 😉
---
Have you read any of these?
Share your thoughts on anything and everything with me! 😁
TILL NEXT TIME,