Title

: Ratchet & Clank: Rift Apart.



Release Date

: 2021.


Console (played on):

PlayStation 5.


Mode(s)

: Single-Player.
Genre(s): Action, Adventure.


Developer:

Insomniac Games.


Publisher:

Sony Interactive Entertainment.



Director

(s): Brian Horton, Marcus Smith & Mike Daly.
Writer(s): Sam Maggs & Lauren Mee.


Composer(s):

Mark Mothersbaugh & Wataru Hokoyama.
Voice Actor(s): James Arnold Taylor, Jennifer Hale, David Kaye, Debra Wilson, Armin Shimerman, Robin Atkin Downes, and many more!

My Overall Rating:
---
I was beyond excited when the 16th installment in the Ratchet & Clank franchise was announced at the PlayStation 5 reveal event back in June 2020. This series marked my childhood with its unusual heroes and odder villains, its quirky humour, and its bombastic frenzied gameplay. I just knew that it thus had its hook in me forever. Although the last entry released on the PlayStation 3 in 2016 was a huge misdirection, but still a fun game, turning into the generic and formulaic monster that it used to make fun of, Rift Apart looked like a step in the right direction, giving the series a refreshing new story-telling vision that seemed promising on all fronts. And that is what developers Insomniac Games achieved with this exclusive PlayStation 5 game: a marvelous, colourful, and next-gen game that anyone and everyone can pick up and enjoy.
What is Ratchet & Clank: Rift Apart about? To celebrate Ratchet and Clank's recent heroic feats, the world has come together for fiery festivities. As the event progresses, Clank surprises Ratchet by revealing his latest creation, a repaired Dimensionator, hoping to give his friend an opportunity to find other Lombaxes and his long lost family. Unfortunately, the event is interrupted by Dr. Nefarious who snatches the device in hopes to achieve his evil plans. One explosion leading to another, the encounter comes to a devastating spatial and temporal catastrophic end that sends all three on their separate ways into another dimension. Ratchet and Clank thus try at all cost to reunite and fix this mess before heading back home but the task at hand is much more complicated than at first sight.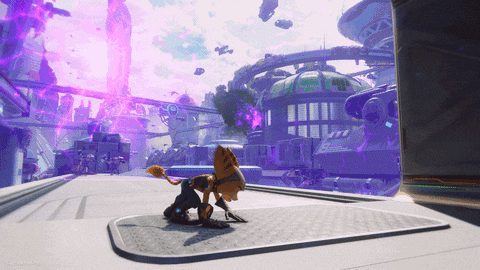 A massive improvement to its predecessor, the latest adventure of Ratchet and Clank is a phenomenal journey through time and space. Drawing upon the stunning and infinite universe of this franchise as well as the colourful cast of off-the-wall characters, it mostly capitalizes on the traditional humour and stylish action to deliver an emotionally-rich journey with a central theme around the state of being broken. In fact, the story playfully and cleverly draws parallels with the rupture of time and space by putting the spotlight on character's who feel broken and their desire to seek ways to conform, be normal, and be accepted. As the story normalizes learning from past mistakes, gamers are invited to watch these expressive characters learn to forgive and to become better versions of themselves.
Utilizing similar gameplay mechanics to the previous installment, the latest entry in the franchise fully embraces the new PlayStation 5's functionalities (especially through haptic feedback and adaptive triggers) to deliver an immersive experience. The game also offers countless ways to progress through waves of enemies, with easily accessible weapon wheels and a unique "Rift Tether" feature that allows you to use portals to quickly travel distances and approach enemies from different angles. Throughout the game, fun and clever puzzles are also integrated to the narrative, similar to what well-versed fans of the franchise are used to solving. The unlockable challenge mode once you complete the game also gives players the chance to revisit the game with an extra difficulty, giving gamers a new opportunity to try new content that will assure them a good time.
This latest Ratchet & Clank game is also a fantastic visual treat. Not only does it seamlessly transition between cinematic cutscenes and gameplay, it also offers a truly vibrant, memorable, and detailed universe that will make you wish that it was an open-world game. Although there are a couple too many cutscenes that are a bit longer than necessary, unfortunately, breaking the pace and putting you back as a spectator before turning you back into a gamer, the game does a fantastic job in embracing this universe's design to the fullest. Once you fully upgrade your guns and unlock their wildest functions, the bullet-storm you'll unleash will inevitably be a grandiose firework that will always leave you satisfied once you get the job done.
Ratchet & Clank: Rift Apart (2021) is a riveting, explosive, and eventful next-gen intergalactic adventure sending the dynamic duo through dimensions reckoning once again to save the universe from utter destruction.
---
Ratchet & Clank: Rift Apart (2021) is out on the PlayStation 5 since June 11th 2021.
---
Have you played this game?
Will you? What do you think about it?
Share your thoughts with me!
---