Hello ladies & gentlemen,
The month has come to an end and it's time to do a quick wrap-up of what has been done.
Reading Breakdown.
Novels read: 3 (↓3).
Comic books read: 19 (↓9).
Manga volumes read: 5 (↓3).
BOOK REVIEWS.
The Tower of Fools by Andrzej Sapkowski.
Ring Shout by P. Djèlí Clark.
The Invention of Sound by Chuck Palahniuk.
COMIC BOOK REVIEWS.
Digital Mini Reviews | The X-Men Takeover.
Blade of the Immortal (Vol. 1) by Hiroaki Samura.
My Broken Mariko by Waka Hirako.
Batman (Vol. 1): Their Dark Designs by James Tynion IV.
Batman: Three Jokers by Geoff Johns.
Digital Mini Review | The Women of Marvel.
The Sandman Omnibus (Vol. 1) by Neil Gaiman.
MISCELLANEOUS POSTS.
The Greatness of Video Games Part II.
---
TOP BOOK.
By far one of the best novellas in the market right now! Discovering this author through this story was just the perfect entry point for me.
Check out my review for more on my thoughts!
LEAST FAVOURITE BOOK.
For a graphic novel to dare explore or reiterate a superhero's origin story so poorly is saddening. For that alone, this deserves a special mention in my least favourite book of the month!
TOP MOVIE.
I'm surprised that it took me so long to finally watch this masterpiece.
It is a flawless masterpiece depicting the descent into madness of two aficionados of the craft of music; whilst one rots with envy and cowers from an inferiority complex, the other is subject to unjust scrutiny and suffers from unrecognition due to his tendency to break free from conventionality.
The score speaks for itself, masterfully harmonized to the enthralling, humorous, and heart-breaking narrative.
---
CURRENTLY READING.
With its sequel, The Fires of Vengeance, now out, I can't wait to finish The Rage of Dragons! I've been slowly reading my way through this giant epic fantasy debut novel and it is absolutely enthralling! More about this soon!
PERSONAL LIFE.
Unlike the exceptionally productive month of October, life had a lot of expected events in store for me, thus completely destroying the meticulous plans I had for it. It's not that it didn't allow me to stay productive, it's just that my reading and blogging took a hit and I had to assume it with my chest pump out. If anything, it's one of those moments throughout a blogging year where you have to suddenly hit the breaks and follow the flow of the traffic if you don't want to get into an accident.
While I was a bit sad that I couldn't get through more books, I managed to squeeze in just enough to feel like I hit that average mark and had enough time in my hands to reevaluate how I can do better for the last month of the year (yep… we're already there!). November really felt like one of those months where I began to realize how much got done, how much still needs to be done, how much I won't get done, and how much I can get done before the end of 2020. While I'm very happy about myself, there's always those little niggles that pop up and remind you to do better. 😛
Early in the month, as of November 12th, is when the PS5 console came out and my plans really crumbled, on top of a sudden change in my work schedule forcing me to commute for two weeks. While I don't regret anything in particular, not at all, I am reminded that time is not something you can mess with. It doesn't bend to your will and when you need some, it won't give anything at all! Now that's something I've always known, but it never ceases to hit you where you least expect it to!
I still plan to look at November 2020 as the month of various changes, a month of realization that prioritizing is an art that we must learn to master quickly if we are to make the most of our lives! 😀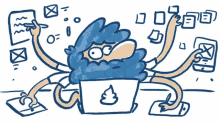 ---
Thank you all for checking out my monthly wrap-up and don't forget to check out any posts that might interest you or that you might have missed out on!
Stay tuned for my Monthly Anticipation post coming out soon. 😉
So what's going on with y'all? What have you discovered this month? What are your thoughts on the books/TV series/movies I've checked out?
Yours truly,