Title: The Boys.

Rated: R.
Season: 2.
Number of episodes: 8.
Release Date: 2020.
Genre(s): Dark Comedy, Science-Fiction.
Developed by: Eric Kripke.
Based on: The Boys by Garth Ennis and Darick Robertson.
Cast: Karl Urban, Jack Quaid, Antony Starr, Erin Moriarty, and many more!
Original Network: Prime Video.
My Overall Rating:
---
---
If there's one superhero series that successfully managed to shock and impress the world out of the blue, it's The Boys. Based on the comic book series of the same name created by writer Garth Ennis and artist Darick Robertson, the show introduces viewers to a world brimming with superheroes within America, living among humans, as they all form a cohesive society, while also unveiling their darker and naughtier facet, reminding us that humankind isn't always capable of nothing but good. The first season successfully managed to introduce this terrifying world, displaying the vices of superheroes, especially those forming the Seven who are run by the individuals at Vought, while also following the formation of the Boys as they unite to expose these so-called heroes to the world for the monsters they really are.
What is The Boys (2019—) Season 2 about? Picking up where things were left off in the first season, the story continues to follow the Boys in their efforts to take down Vought by teaming up with an undercover spy within their organization ready to expose the truth behind Compound V. Despite the bounty on their heads by government authorities, they live in the shadow (or underground comic book stores) and attempt to find a way to get things done. Butcher also discovers the truth behind his beloved Becca and is now on his own mission to do everything in his power to take back what Homelander once stole from him. Meanwhile, the Seven look to fill in the empty spots on their roster and see the sudden arrival of Stormfront, a social-media-savvy superhero with a dangerous political agenda. Although things are fragile for each member with recent developments, their presence will be very much needed with super-terrorists loose in the world.
Unsurprisingly, the showrunners of The Boys deliver another phenomenal season for fans to indulge. The story remains pretty loosely based on the comic books, taking many risks and pushing the story in wholly different directions that effortlessly makes it less gratuitously violent and vulgar than its comic book counterpart by dosing it perfectly, making countless scenes shockingly violent yet cathartically satisfying. Every actor originally presented in the first season also obtain much more screen time in this second season as every episode takes the time to focus on the background and motives of these characters. Of all the characters, Homelander (Antony Starr) remains the central attraction once again. His devilish flair makes for an outstanding and diabolical (wink, wink) villain in the clothes of a hero, this time struggling to retain the American people's love as his alpha status is challenged by Stormfront (Aya Cash). It remains a journey in itself to watch him try and fill up multiple voids within him in terms of bonds with others.
As a whole, this second season doesn't look to tell a story on a more ideological level as it remains superficial in its exploration of this cynical and fascist regime hidden under capes and masks within America. Instead, it zooms into the heart of every single character and unveils the raw human emotions that one possesses for others, especially those found within families, whether you're evil or not. From fatherhood/motherhood to love partners, the show brilliantly balances each character's journey to give viewers the chance to connect with their cause and their battle. Whether it's Hughie Campbell (Jack Quaid) trying to find purpose in his life or The Deep (Chace Crawford) trying to redeem himself through a cult, there's always some kind of introspective journey that is told throughout this second season. Unfortunately, it does come at the expense of a more drama-oriented story-arc but, do not fret, when the action sequences do come, they make sure to leave a lasting impression on viewers.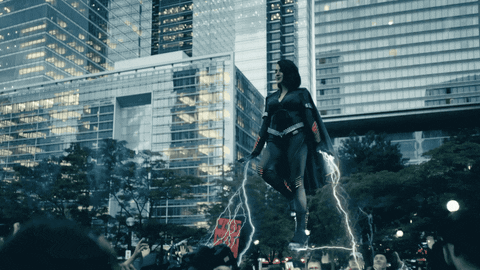 With a third season already confirmed as well as a spin-off series in development, it is safe to say that this series is on a roll and is not ready to come to an end. It has been a relentless ride through a satirical take on the superhero genre while also offering a compelling portrayal of the complexity of humankind, whether you're human or superhuman. It will be intriguing to see where the story will go next now that a lot of the pieces have been dramatically moved into power positions. With excellent cinematography, mostly accomplished right in Toronto, Canada, as well as an exciting score composed by Christopher Lennertz, you will definitely want to binge this series as soon as possible.
The Boys (2019—) Season 2 is another excellent season running on the success of the first season but narrowing its focus on character development by exploring themes of friendship, family, and love.
---
All eight episodes of season 2 are now available for you to binge!
---
Have you read the comic book series by Garth Ennis?
Have you seen The Boys (2019—) Season 2? Will you?
Share your thoughts with me!
---