Hello ladies & gentlemen,
Who doesn't love the anticipation of new releases and things that they plan on doing? Every month there seems to be something new and exciting ready to hit the market for our consumption.
Being ready to embrace them with open arms is all we can really do.
To showcase this, I'll be sharing my top 3 for each category of things that I look forward to this month right here, right now!
---
TO BE READ.
I've heard amazing things about Alice Hoffman's writing and I'm happy to finally get the chance to try it out with this upcoming novel!
---
I really enjoyed the first book in this series, Ancestral Night (check out my review here), and I can't wait to see what she has to offer next!
---
I've been seeing a lot of raving reviews for this new novel. I've never tried anything by her, although I've heard fantastic things about The Sixth World series.
---
BOOK RELEASES.
I had my eyes locked on this one for a while and you bet that I'll be sharing my thoughts on it pretty soon!
---
Seanan McGuire can't hide from me, no matter what pen name she goes under! I'm curious about this novel more than you believe!
---
I don't exactly read everything he publishes as soon as they come out but it's good to know that this one will be out there soon for a healthy dose of short stories.
---
COMIC BOOK RELEASES.
As a solemn and honourable fan of Sean Murphy's Murphyverse, you already know that I'll want to catch this spin-off story as it comes out! The month just gets better and better, especially knowing that Batman: Three Jokers and Batman: The Joker War will both come to an end this month before getting collected!
---
I believe that Tom King's best work comes from limited series, short and concise. While I had a rollercoaster ride with his Batman run, I look forward to seeing what he'll be doing with my boy Rorschach next, even if Ola would rather eat dirt than read his stuff anymore. 😉
---
I didn't see this coming but I'm truly excited by the idea! Neil Gaiman's The Sandman universe collies with Joe Hill's Locke & Key?! It's a match made in heaven! I can't wait to see where this publisher collaboration goes!
---
TV SHOW RELEASES.
As I've mentioned before, I quite the original TV series at season 9 (although I've been convinced by a couple of people that it might be worth revisiting before the show comes to an end soon), but their latest spin-off series is just around the corner (October 4th, 2020) and this… This… I will be avoiding for sure! I will be enjoying fans roast it in the upcoming month though. 😉
---
The only TV series that will matter this month is the second season of The Mandalorian. Let it be known that this is the only ongoing and relevant Star Wars content that honorably represents the franchise. 😉
---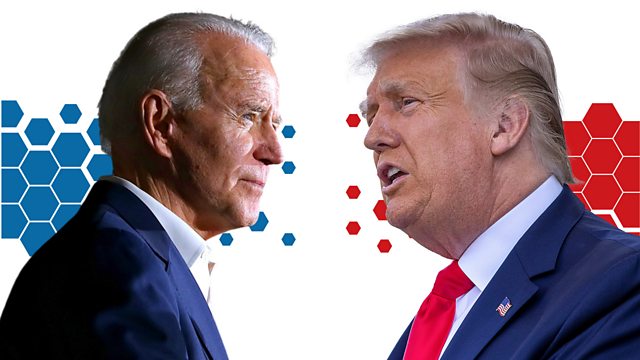 After the incredible shitshow that was the first presidential debate of 2020, I can't wait to see what these two hope to "discuss" for round 2 (October 15th, 2020) and round 3 (October 22nd, 2020). I hope my fellow Americans will know how to survive this election…
---
MOVIE RELEASES.
Sofia Coppola returns to direct a new movie starring Bill Murray and Rashida Jones and it feels like it might have plenty of emotions for us to feel! 😉
---
The cast for this movie is insanely packed and it sounds so promising and timely!
---
Based on the novel of the same name by Daphne du Maurier comes a brand-new adaptation starring Lily James, Armie Hammer, and Kristin Scott Thomas!
---
PERSONAL LIFE.
With my foray into the digital world of literature officially a go, I think October is going to be a huge test in how I juggle all of the different ways I can read now. This is both scary and exciting, mostly the latter, but I hope that it won't be counter-productive in my reading progress. It's going to be exciting to see how my numbers vary by the end of the month.
I also hope to kick procrastination in between the legs and get more serious in the tasks and goals I've got for this month. I want this month to feel like a radical transformation of the relative stagnancy experienced in the past few months. I'm sure it's possible. I just need to put my mind into it.
To help with this "serious-me" October, I also had a once-a-week basket-ball team practice that would keep me stimulated during the upcoming months. However… our city just entered code red for the pandemic (with around 1,000 cases per day reporter) and new measures have been put into play to limit social activities. I have no idea how this will affect the inside gym and whatnot for us… I just want to play ball thouuuuugh!
All that being said. October seems so exciting (see above anticipated stuff) and I can't wait to share it all with you guys. I also can't wait to see what everyone will be doing and sharing throughout this spooky season! 😉 I do feel a bit sad for those who hoped to trick or treat. I hope it won't be ruined by the pandemic…
---
Thank you all for checking out my monthly anticipation post!
Now tell me what you're looking forward to this month! Any new releases? Anything exciting you plan on doing?
Yours truly,