Director

: Christopher Nolan.
Screenplay: Jonathan Nolan & Christopher Nolan.


Story:

Christopher Nolan & David S. Goyer.
Release Date: 2008.
Runtime: 152 min.
Genre(s): Action, Crime, Drama.
Cast: Christian Bale, Heath Ledger, Aaron Eckhart, Michael Caine, Maggie Gyllenhaal, Gary Oldman, Morgan Freeman, and many more!
Budget: $185,000,000.
Opening Weekend USA: $158,411,483.
Gross USA: $555,234,033.
My Overall Rating:★★★★★★★★★★ (10/10).
---
---
There are sacrifices in life that demand far more from a person than one can imagine. They come from a drought in acts of heroism that put countless lives on the line, when a whole city or the whole world are on the verge of chaos and destruction. With no more room for selfish desires, these heroes go beyond their mind and body to do what's right, risking their own lives in the process to allow others to indulge an iota of happiness. This is a lesson that Bruce Wayne learns the hard way as he enters a terrifying year of crime and turmoil led by a deranged, manipulative, anarchic mastermind who will scar Gotham City forever. Legendary director Christopher Nolan proceeds to release the classic sequel to Batman Begins (2005) that will go on to become the greatest superhero movie of all time.
What is The Dark Knight about? As Batman becomes a symbol of hope and justice in Gotham City, a new menace clowns around, establishing his anarchic dominance towards the remaining organized crime: The Joker (Heath Ledger). Although his vow to rid crime has yet to be met, it is time for Bruce Wayne (Christian Bale) to look towards a structural partnership that may help him stop criminals in their steps and there is no better place to look for this help but in District Attorney Harvey Dent (Aaron Eckhart) and Lieutenant Jim Gordon (Gary Oldman). However, the Dark Knight isn't without a plan himself as he hopes to turn the D.A. into Gotham's White Knight and go after the heart of his childhood friend Rachel Dawes (Maggie Gyllenhaal), putting behind his cape and cowl for a peaceful life. Can he get what he hopes for?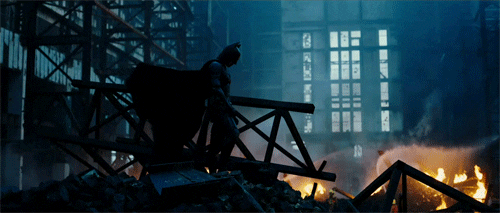 Don't ask me how many times I've seen this movie, I've lost track and I'll probably never get tired of it. This crime thriller is a phenomenal example of masterful storytelling and characterization. Based on multiple iconic stories including The Long Halloween, this movie served as a test of willpower, determination, and loyalty for the Dark Knight and it is accomplished through meticulous and devastating planning by the Joker. The psychological distress that comes from facing his anarchic scheming is one that requires Gotham's saviour to make morally- and ethically-challenging decisions if he is to defeat his evil alter-ego. Speaking of which, the movie shines from this representation of good and evil through Batman and the Joker. One simply does not exist without the other. And it's even more impressive when you realize the similarities in the two: in the timing of their attack, in the planning of their offense, and in the understanding of their environment. They're cut from the same cloth but on different days.
The dynamic between these characters is a gem in cinematic and comic book history. It showcases a stark and unparalleled understanding of these two characters. One abides by rules, the other laughs at them. And when one another discovers this maxim by which they exist, there are only weaknesses to be exploited. The real question simply lies in who will break first. This is where I go on a eulogy for Heath Ledger's performance as the Joker. It is simply mesmerizing. An artistic display of talent and passion. The tics, the improvisation, the make-up, the mood, the voice, the dialogue. It is nothing but a flawless adaptation of the greatest villain in comic book history. And once you understand what he plans to accomplish through Gotham's ray of hope (Harvey Dent), you have no other choice but to praise his evil ways and pray that Batman will do what he has to do to save his loved ones, his city, and himself.
It would be difficult to ignore Wally Pfister's cinematography, beautifully capturing the grim, dark, and depressing tone within Gotham City. This is a city on the verge of burning itself to the ground. It is one that doesn't know who to trust, what to believe, and where to look for any sign of hope. To further capture the beautiful scenes is the score composed by Hans Zimmer and James Newton Howard. This is a perfected and polished utilization of music to fully capture a sense of awe and thrill within each and every scene. This is how you make sure that the movie leaves a lasting impression on the viewer, one that will remind them that the movie is more than just actors putting on a show. It's about a story with ideas and people who believe in who they are, ideas that aren't just happy endings and pretty pictures, or people who aren't just happy fools and pretty faces. This is a masterpiece.
The Dark Knight (2008) is a tightly-knit masterpiece highlighted by the unforgettable performance of Heath Ledger as the Joker.
---
While Jack Nicholson's Joker might have been an INSURMOUNTABLE performance, actor heath ledger stole the show and gave us a psychopathic killer to remember forever.
---
Have you read any Batman/Joker comics?
Have you seen The Dark Knight (2008)? Will you? What did you think about it?
Share your thoughts with me!
---