Creator:

Damon Lindelof.


Director

: Nicole Kassell, Stephen Williams, Steph Green, Andrij Parekh, David Semel & Frederick E.O. Toye.
Screenplay: Cord Jefferson, Jeff Jensen, Claire Kiechel, Damon Lindelof, Stacy Osei-Kuffour, Nick Cuse, Lila Byock, Christal Henry & Carly Wray.


Original Story Based on Writer and Illustrator:

ALan Moore & Dave Gibbons.
Release Date: 2019.
Length: 9 Episodes.
Genre(s): Action, Drama & Mystery.
Cast: Regina King, Yahya Abdul-Mateen II, Tom Mison, Sara Vickers, Jeremy Irons, and many more!
My Overall Rating:★★★★★★★★★☆ (9/10).
---
Some franchises lay the groundwork to a world too rich and detailed to ignore. Despite telling the story that the creator wanted to tell, they also end up inspiring and inviting others to reflect, they incite these like-minded individuals to expand on what was accomplished while accepting and battling the pressure to match or outdo the predecessor's success. Creator Dave Lindelof is one of them and he attempts a bold and ambitious adaptation of one of the most beloved and quintessential graphic novels of all time: Watchmen. Without being a direct and restricted adaptation of the source material, he offers a twist to it by setting his story years after the events in the comics as he presents a distinctive and engrossing social commentary on America and its abundance of racial tension and civil conflicts.
What is Watchmen about? Set 34 years after the events in the graphic novel, the show focuses on an alternate reality similar to ours and takes place in Tulsa, Oklahoma, in 2019. This time around, Robert Redford is the president, the Internet does not exist, and the police wear masks to protect their identity from criminals, especially the returning white supremacist terrorist group known as the Seventh Kavalry, who, inspired by Rorschach's writing and his iconic mask, have grown to despise minorities and the police that protect them. The story thus follows Detective Angela Abar (Regina King) who finds herself at the heart of a complex tale exploring the origin of the legendary vigilante Hooded Justice, the mystery behind the disappearance of Doctor Manhattan, and the evergrowing plague of racism and prejudice within society.
For those who fear that they won't be able to understand this mini-series without having read the original graphic novel, fret not. Creator Damon Lindelof and his crew do an exceptional job in building the universe on which this story is set, making sure to explicitly cover all of the relevant events that took place in the original story while sprinkling a couple of Easter eggs for fans of Alan Moore and Dave Gibbons' masterpiece throughout the series. By making their work canon and fully embracing the repercussions of those events, they create a brilliant world that clearly suffers from societal issues parallel to the ones that viewers will quickly be able to recognize and relate to. It is in this conception that they achieve some of their best work, creating an immersive and unforgettable world where everything simply seems plausible and methodically engineered as multiple timelines are simultaneously explored and unraveled.
The series remains a self-contained tale that crafts a brilliant narrative focused on story-telling and achieves its goal to weave a message where perception is the key to understanding and the lack of it leads to a chasm, a divide among people that will inevitably plunge society into ruins. The same existential pressure felt through the graphic novel resonates just as strongly in this series where Regina King's character serves as the vessel and the experimental guinea-pig to a much bigger scheme at play. Her incredible performance as Angela Abar/Sister Night also elevates this mini-series to unexpected heights and offers viewers the chance to experience one of the best TV series entertainment in the last decade. Add in actors Jean Smart and Jeremy Irons who respectively play some of the most memorable characters in this series—you'll just have to watch and find out who they play—it is simply a delight to watch their character's own stories unfold as their pasts are reflected through their complex personalities today.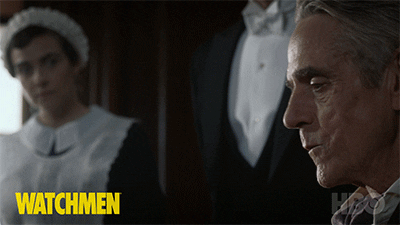 Without revisiting the deconstruction of superheroes, this TV mini-series looks further into the construction of identity, whether it is individual or societal. Through nine distinct episodes, introducing new characters along the way, revealing unpredictable twists as well, the story is mostly strewn together by a constant focus on the past of this alternate-history America through flashback sequences cleverly directed, revealing turning point events, from the Tulsa massacre to a mass-extermination of a couple thousands of people. The pacing also dictates the tone but never fails to capture its unique style that keeps plenty of secrets safe from the viewer until the moment is right for it to shock and awe them into understanding how everything connects and makes sense.
Complemented by an impeccable score, beautiful contrasting cinematography, and resonant fighting sequences, the show does a spectacular job in sticking to its unique formula as it offers a stark and smart story. Originally planned as an ongoing series, creator Damon Lindelof has also made it clear that he has told his story within this one-and-only season and leaves the franchise to any other director who wants to tackle a new story, making it much more likely that any future season would explore a completely different story being told with a completely different cast. For the time being, this season alone has successfully collected 26 Emmy Award nominations and awaits for the winners to be announced on September 20, 2020.
Watchmen (2019) is an innovative and provocative adaptation of the classic graphic novel as it explores the complexity of the truth and one's identity through a sprawling war for power and respect.
---
Based on the characters created by Alan Moore and Dave Gibbons, this live-action TV Series adaptation of the comic book masterpiece Watchmen offers an authentic and original pseudo-sequel for fans to indulge.
---
Have you read any Watchmen comics?
Have you seen Watchmen (2019)? Will you? What did you think about it?
Share your thoughts with me!
---