Hello ladies & gentlemen,
The month has come to an end and it's time to do a quick wrap-up of what has been done.
Reading Breakdown.
Novels read: 3 (

↓

2

).
Comic books read: 6 (

↑1

).
Manga volumes read: 8 (↓2).
BOOK REVIEWS
The Great Gatsby by F. Scott Fitzgerald.
The Girl and the Stars by Mark Lawrence.
The Book of Koli by M.R. Carey.
COMIC BOOK REVIEWS
Superman: Action Comics (Vol. 2): Leviathan Rising by Brian Michael Bendis.
Superman (Vol. 2): Unity Saga: The House of El by Brian Michael Bendis.
Nimona by Noelle Stevenson.
Event Leviathan by Brian Michael Bendis.
Logicomix: An Epic Search for Truth by Apostolos Doxiadis and Christos Papadimitriou.
Superman: Action Comics (Vol. 3): Leviathan Hunt) by Brian Michael Bendis.
Kabuki Omnibus Vol. 1 by David Mack.
TV SERIES/MOVIE REVIEW
MISCELLANEOUS POSTS
The Benefits of Reading.
Real Neat Blog Award.
---
TOP BOOK
Writer M.R. Carey's latest novel was a fun take on the post-apocalyptic sub-genre and offered an immersive and quick read that promises some exciting adventures in a far-away future!
Check out my review for more on my thoughts!
LEAST FAVOURITE BOOK
It wasn't a bad book but this brand-new spin-off series kicked off on the wrong foot by failing to meet expectations and by going down an unexpected road coming from the adult fantasy writer himself!
Check out my review for more on my thoughts!
TOP TV SERIES/MOVIES
It was time to tackle another classic Studio Ghibli movie and it's safe to say that this one did not disappoint as well.
A completely innocent and whimsical tale of two little girls discovering a mythical creature as they cope with the absence of their mother in their new home.
Purely centered around the life of these children and their beautiful and authentic relationship with one another, there's nothing pulling this story forward but the momentum of life and all of its secrets.
 4 stars outta 5.
These are all the movies I watched/rewatched this month.
Feel free to share your thoughts on them!
Special mention to Chernobyl (2019), a historical drama split into five episodes brought to you by HBO and Sky UK. It is centered around the April 1986 Chernobyl nuclear disaster and offers incredible dramatized insight in the event through various point of views. From exposing a political ideology that backstabbed countless lives and generations to the psychological flaws of corrupt individuals, this is a must-watch for everyone.
5 stars outta 5.
CURRENTLY READING
I started this before the tragic events taking place in Minneapolis and now look forward to finishing it.  
PERSONAL LIFE
This month pretty much completes the second full-time quarantine as everything is slowly reopening out in the world. If there's one thing that I've come to realize is that I have grown way too used to isolation. I have a hard time imagining going back to doing social things without constantly worrying about catching a virus. Imagine going to restaurants now. I'm pretty sure everyone will be much more paranoid than ever before. It's a bit sad that we have to live with this new reality for more or less a whole year. For the time being, I'll just be content with being able to do everything I want to do at home.
This month also came with a couple of exciting career opportunities that I never thought would come to me already. Then again, I'm 25. The earlier I get set, the better it is, right? While it's scary, I think its best to seize those opportunities, especially when they are rare. I look forward to what June will have to offer.
Another thing that the quarantine has successfully helped improve in me, and maybe everyone else too, is my skills in procrastination. I feel like being stuck indoors makes it easier to postpone things you want and need to do. It doesn't help when the weather evaporates every drop of motivation within you. While I'm glad that I don't need to deal with snow for a while now, I didn't expect to reach 40° Celcius so early in the year!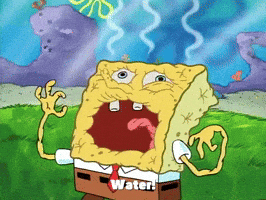 ---
Thank you all for checking out my monthly wrap-up and don't forget to check out any posts that might interest you or that you might have missed out on!
Stay tuned for my Monthly Anticipation post coming out soon. 😉
So what's going on with y'all? What have you discovered this month? What are your thoughts on the books/TV series/movies I've checked out?
Yours truly,