Hello ladies and gentlemen,
Thank you guys for inviting me to look at the brighter side of humanity this time around!
---
CHASTITY
Which author/book/series you wish you had never read?
Some of you already know but I have this love-hate relationship with Frank Miller and I feel like he can write some of the worse stories ever. One of the most unnecessary sequels to a classic masterpiece that he has written is Batman: The Dark Knight Strikes Again. Don't get me started on that garbage…
TEMPERANCE
Which book/series did you find so good, that you didn't want to red it all at once, and you read it in doses just to make the pleasure last longer?
This one can easily go to my all-time favourite novel, Crime and Punishment by Fyodor Dostoyevsky. Not only was it such a huge book that I needed to take some time reading it, I also ended up TAKING my time with it to appreciate the incredibly perfect character development with Rodion Romanovich Raskolnikov.
CHARITY
Which book/series/author do you tirelessly push to others, telling them about it or even giving away spare copies bought for that reason?
One book that I will ALWAYS recommend anyone and everyone is The Killing Joke by Alan Moore. Not only does it require zero knowledge (besides knowing what a Gotham is), it also showcases the raw potential of the comic book medium!
DILIGENCE
Which series/author you follow no matter what happens and how long you have to wait?
One of my all-time favourite fantasy novel is The Lies of Locke Lamora and Scott Lynch will always be an author I'll keep tabs on no matter what. Even if he hasn't continued the series for a VERY long time, he at least given us short stories in anthologies to calm us… A little… while we wait… forever…
PATIENCE
Is there an author/book/series you've read that improved with time the most, starting out unpromising, but ultimately proving rewarding?
The only author that comes to mind is Ruth Ware whose books have only gotten better with each new story. Her best work to me remains The Death of Mrs. Westaway.
KINDNESS
Which fictitious character would you consider your role-model in the hassle of everyday life?
I think you already know my answer… 😀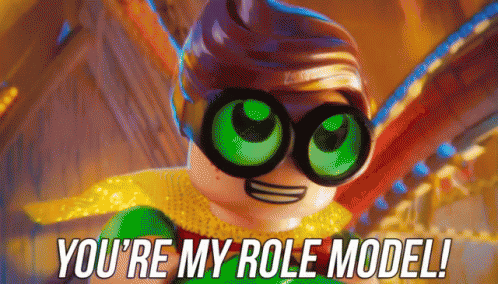 HUMILITY
Which book/series/author do you find most under-rated?
I think I'm just going to do with Ed McDonald's recently completed trilogy, The Raven's Mark series. He's already on my auto-buy list and there's a reason for it.
---
Here's who I am inviting to do this tag! If you don't feel like doing it, don't worry! Consider this an act of recognition of your holiness.
If you're interested by this tag or the previous one, feel free to do it too! 😀
Till next time,